November 29, 2021
Contract Signing: Chennai Metro Rail Phase 2, Line-4 Project in India
The consulting services contract for the Chennai Metro Rail Phase 2, Line 4 Project, was signed on 20 November 2021, between the Client, Chennai Metro Rail Ltd. ("CMRL"), and the Consultant, the Joint Venture of AECOM India ("AECOM"), Oriental Consultants Global, Co., Ltd. ("OCG") and Nippon Koei Co., Ltd. ("NK").
The signing ceremony was attended by Mr. T. Archunan, Mr. Rajesh Chaturvedi, Directors of CMRL, along with representatives from each JV firm, Dr. Reiko Abe from OCG, Mr. B. Ramana Naidu from AECOM, and Dr. G. Sampath Kumar from NK. After the ceremony, the representatives paid a courtesy visit to Mr. Pradeep Yadav, Managing Director of CMRL.
A group photo
Fourth from left: Mr. Pradeep Yadav,
Managing Director of CMRL.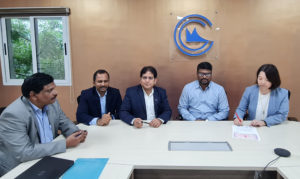 Signing the contract
Far right: Dr. Reiko Abe, Chairman of OCG India
In India, the metro system is said to have revolutionized the concept of urban transportation. Furthermore, there were no public transportation services to which women could safely access like the metro system. Metro systems provide comfortable and on-time services, thus have substantially improved citizens' lives and have also expanded women's social activities. Resultantly, the benefits of the metro systems are widely appreciated by Indian citizens, and there are many cities in the country planning for the construction of metro systems at present.
Chennai is the sixth largest city in the country with a population of about 4.7 million, in which Lines 1 and 2 (Phase 1, total length: 54.15 km) are in operation. To further promote inter-city transportation, this Phase 2 Project consisting of Lines 3, 4, and 5 were planned and Lines 3 and 5 have been under construction. The JV of AECOM, OCG and NK signed the contract with CMRL for the construction supervision of Line 4.
Line 4 will have a length of 26.1 km and will have 28 stations. One-third of the line is underground, which passes beneath the center of the city. With OCG's excellent technical expertise and project management capabilities, supported by our abundant metro system project experience, we will continue bring high-quality railway infrastructure to India.