September 2, 2022
Award of "PMC-TRS" Contract
Oriental Consultants Global Co., Ltd. together with Japan International Consultants for Transportation Co., Ltd. ("JIC", President: Masahiko NAKAI, Head Office: Chiyoda-ku, Tokyo) and Nippon Koei Co., Ltd. ("NK", Representative Director and President: Hiroaki SHINYA, Head Office: Chiyoda-ku, Tokyo) is awarded the PMC-TRS* Contract with National High Speed Rail Corporation Limited (NHSRCL) on August 31, 2022.
*PMC-TRS: Project Management Consultancy Services for Track, Rolling Stock, Sabarmati Depot, Inspection & Maintenance cars and Training Simulator Packages for the Construction Stage of Mumbai-Ahmedabad High Speed Rail(MAHSR)Project)
【Scenes of Signing Ceremony of PMC-TRS】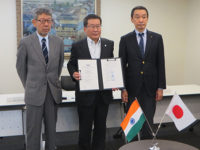 This Contract was awarded by NHSRCL to a consortium consisting of JIC, NK and OCG (Japan International Consultants Consortium: "JICC"). The term of the contract is over 8 years from the signing of the contract to the end of fiscal year 2030.
Regarding the Mumbai-Ahmedabad High Speed Rail ("the Project"), the Japan International Cooperation Agency ("JICA") awarded JICC a contract for "General Consultancy" [Technical Assistance/Grant aid] for the High Speed Rail Construction Project in India on December 9, 2016, and since then JICC has executed standard design and detailed design, prepared bidding documents and provided bidding support in the design and bidding of the project. JICC was also awarded a contract for advisory services related to civil packages' design for the construction phase in June of this year, and has been making efforts to promote the Project. This contract with NHSRCL is funded by a yen loan from JICA.
With the signing of this contract, JICC is aiming at the success of the Project, the first high-speed rail in India. Each member of JICC will contribute to the development of public transportation in India as well as over the world by utilizing its various knowledge and know-how on public transportation.