November 14, 2023
OC Global Signs Memorandum of Understanding with Singapore's Surbana Jurong Group to Strengthen Collaboration
SINGAPORE – On November 6, 2023, Oriental Consultants Global Co., Ltd. signed a Memorandum of Understanding (MOU) for strengthened collaboration with Surbana Jurong Group (SJ Group), the largest consulting firm in Singapore.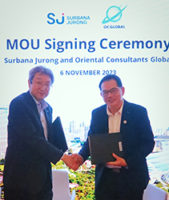 Right:Mr. Choon Chong / CEO, SJ Infrastructure
Left:Mr. Eiji Yonezawa / CEO, OC Global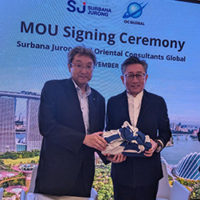 Right:Mr. Sean Chiao / CEO, SJ Group
Left:Mr. Eiji Yonezawa / CEO, OC Global
In 2017, OC Global signed an MOU to expand our partnership with SMEC, a subsidiary of SJ Group. Since then, both companies have been collaborating on projects and facilitating employee exchanges through talent exchange programs. With this new MOU with SJ Group, we have reaffirmed our commitment to creating joint projects and further strengthening our collaboration. Additionally, to coincide with the MOU signing, we conducted thematic workshops.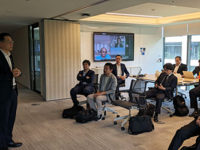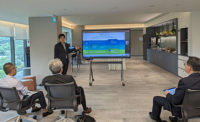 Surbana Jurong Group: Headquarters in Singapore
With a history of over 70 years, Surbana Jurong Group is a multi-disciplinary engineering consultancy with more than 120 offices across 40 countries worldwide. SJ Group has created master plans in more than 60 countries and developed over 100 industrial parks globally.
SMEC: Headquarters in Melbourne, Australia
SMEC is a subsidiary of SJ Group that operates in approx. 100 locations across 40 countries globally, and is involved in a wide range of fields, including the energy sector (hydroelectric power, renewables), the transportation sector (roads, railways, airports, ports), as well as water supply and sanitation.
OC Global collaborates with consulting firms from various countries (SDG 17) to deliver high-quality, reliable, sustainable, and resilient infrastructure development.