April 26, 2023
OC Global Supports JICA's Comprehensive Training Program for Thai Department of Rail Transport Delegates
From April 4th to 13th, 2023, the Japan International Cooperation Agency (JICA) hosted a training program at their Tokyo International Center as part of the "Project for Enhancing Capacity of Formulation of the Second Mass Rapid Transit Master Plan in Bangkok Metropolitan Region (M-MAP2)." Oriental Consultants Global Co., Ltd. (OC Global) supported the JICA Expert team in organizing this training event.
The JICA Expert Team, comprised of ALMEC Corporation, OC Global, and Creative Research and Planning Co., Ltd., has been actively engaged in the M-MAP2 project since July 2021 and is expected to continue until June 2024. Under JICA's supervision, the project is being conducted in collaboration with the Department of Rail Transport (DRT) of Thailand. The objectives of M-MAP2 are to study and review the mass transit network in the Bangkok Metropolitan Region, develop a railway demand forecast model, prioritize routes, and suggest policies for the promotion of mass transit systems, as well as investment schemes.
The Department of Rail Transport, Thailand, participated in this comprehensive training, attending a series of lectures with a wide range of knowledge for the creation of mass rapid transit master plan. Experts and academia delivered lectures on various topics, including formulation of urban railway master plans in Tokyo, demand forecasting, urban development around stations, Transit Oriented Development (TOD), and through-operation services.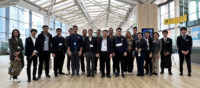 As part of the training, the group visited case studies of urban development around JR Takanawa Gateway station and the Toranomon Hills station. They also toured the urban development around Yachiyo-Midorigaoka and Funabashi-Nichidai mae stations, with guidance provided by the Urban Renaissance Agency (UR) and the representative from Yachiyo City.
Additionally, the group visited the Utsunomiya Light Rail Transit (LRT) and the JR Karasuyama line. These unique train systems are designed to run on both electrified tracks and batteries when operating on non-electrified sections, providing valuable insights for the delegates.
At the closing ceremony, Dr. Pichet Kunadhamraks, Director-General of DRT, conveyed his gratitude to JICA and the JICA Expert team for their support. Mr. Teeranai Srimahachota, as a representative of OC Global, received a souvenir as an expression of appreciation. This training event highlights the deepening collaboration between Japan and Thailand, setting the stage for future advancements in sustainable railway system.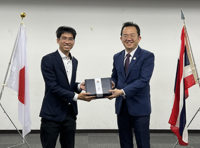 Left: Mr. Teeranai Srimahachota, OC Global
Right: Dr. Pichet Kunadhamraks,
Director-General of DRT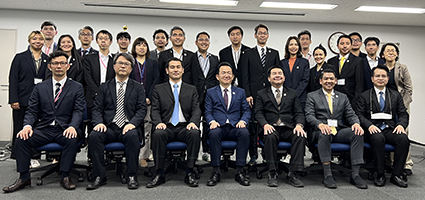 Group photo with DRT,
JICA Expert Team and JICA representatives
This training fosters the development of safe, sustainable transport systems, focusing on expanding public transport to alleviate traffic congestion in growing cities. It also encourages technology transfer and knowledge enhancement from Japan to other countries.