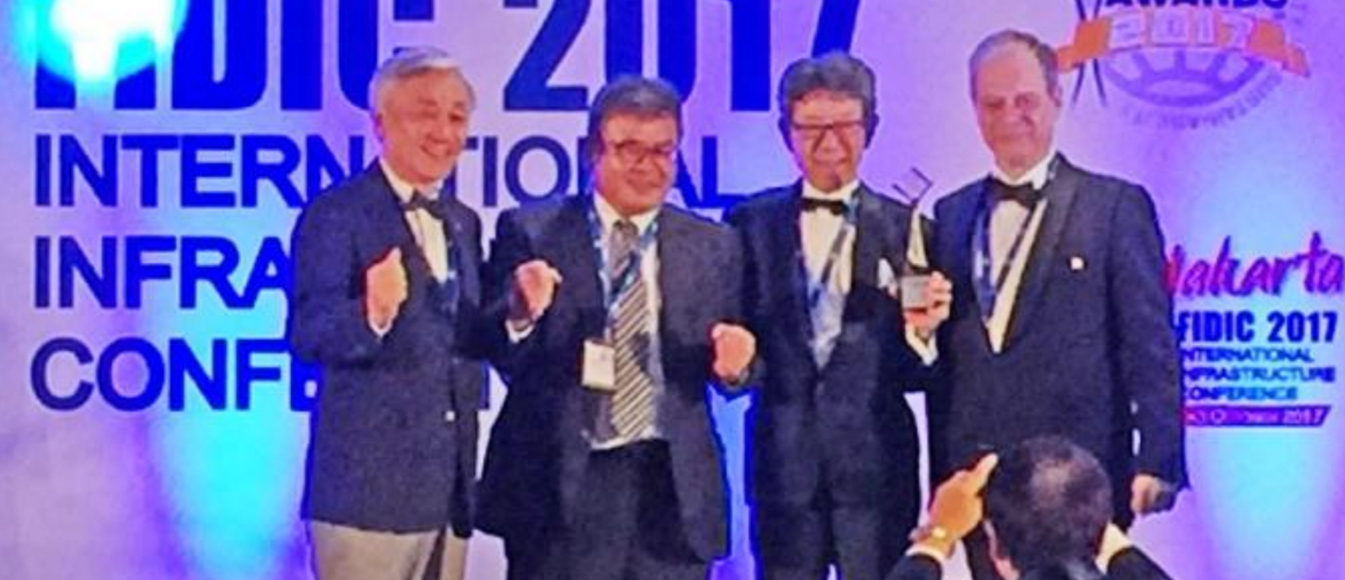 October 14, 2017
OC Global Scores Award at FIDIC 2017 for its Bosporus Strait Undersea Railway Construction Project
OC Global recently scooped a prestigious prize for a project we have been project manager of for the past fifteen years, the recently constructed Bosporus Strait Undersea Urban Railway, locally known as the Marmaray Project. The award ceremony, held on the 2nd of October 2017 at the Jakarta Convention Center in Indonesia, is an annual event of the International Federation of Consulting Engineers (FIDIC) and celebrates excellence in development projects and individuals whose endeavors promote well-being and raise living standards around the world.
Dozens of projects from diverse countries are nominated each year, and this year the FIDIC committee chose the Marmaray Project as one of three recipients of the Outstanding Project of the Year award.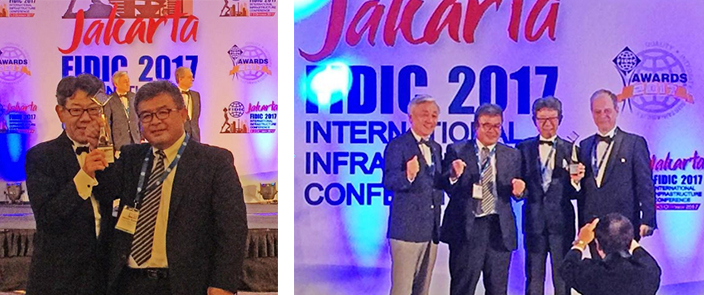 (Left) Ichiro Miyakoshi, representing OC Global's Board of Directors, (L) and Atsushi Nishikori, OC Global's Railway Technology General Director (2nd Division) hold up the commemorative trophy.
(Right) All smiles at the FIDIC 2017 Awards Ceremony. From left to right: Jae-Wan Lee (FIDIC Chairman), OC Global's Atsushi Nishikori and Ichiro Miyakoshi, and Pablo Bueno (Former FIDIC Chairman)
The project aimed to connect the European and Asian sides of the Bosporus Straight in Istanbul, Turkey via a 76.6 km rail extension, including a 12.6 km section of immersed tube tunnel under the sea. The railway was opened on the 29th of October 2013, the 90th anniversary of the founding of the Republic of Turkey, and it now transports an estimated 170,000 passengers each day.
Attempts to conquer the geographic divide that is the Bosporus date back to the ancient Ottoman Empire. A project for the Bosporus region was conceived in 1860 BCE, but the dream of a unified transportation network over the region did not occur until 2013, when it was realized with the financial and technical support of Japan. Before the opening, the only ways of crossing the Bosporus were a ferry that runs approximately every thirty minutes, and a single large road bridge with a one-hour crossing time plagued by chronic traffic congestion. By contrast, the new Marmaray railway link allows passage in as little as four minutes.
Our company first began providing consulting services for the project in 2003, encountering and overcoming many obstacles along the way: frequent adjustment and fine-tuning of the project planning; delays caused by the discovery of ancient archaeological treasures; the challenges presented by the deepest ever underwater tunnel construction to that time; and the need to protect buildings and people in densely populated residential areas. Steadfastly facing and overcoming all of these tribulations has brought us to where we are today, proud of our achievement and ready for any challenge thrown our way.