November 18, 2021
OC Global Launches Real Estate Related Service in Thailand
Oriental Consultants Global Co., Ltd has launched a total management service for real estate development in Thailand in collaboration with its Thai subsidiary, Oriental Consultants (Thailand) Co. Ltd("OC Thailand").
■Background
Overseas real estate investments by Japanese companies have been expanding due to the strong economic growth in Thailand and other Southeast Asian countries, and the growing need for diversified investments recently. It is said that overseas real estate and construction projects tend to face many difficulties unique to each country, such as risks associated with land acquisition, construction quality control, local customs, and foreign investment regulations.
Utilizing the knowledge we have gained over the past half century through various overseas social infrastructure projects, we have launched providing services related to real estate development in Thailand in cooperation with our local subsidiary, OC Thailand.
OC Global provides comprehensive support for our clients' business development in Thailand, from the research stage to business planning, finding local partners, facility planning, construction management, and operation, through the synergy between our extensive knowledge accumulated overseas and the extensive local network of OC Thailand.
■Related Link
More information about this service is available on the corporate website of OC Thailand, our local subsidiary in Thailand.
http://www.octhailand.co.th/

<Illustrative picture of cityscape in Thailand>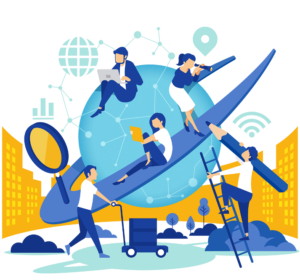 <Conceptual logo>